This website will let those who don't already know scott (VEE) a little taste of what makes him tick. Scott has been playing guitar since the age of 13 and has not let it down since. Scott's style of music is a wide one. He enjoys the softer ballads and thrives on the darker moods. Music has always been an outlet for him to express his most intiment feelings. Please take a look around and get to know the man behind the name.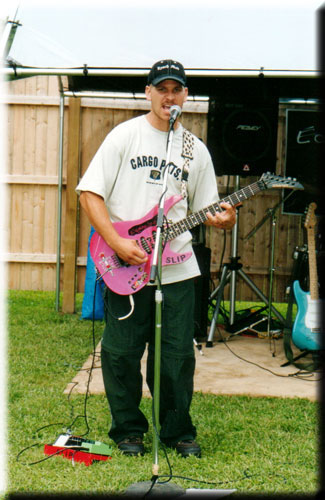 VEE's updates
Scott is currently working on another solo project titled ( BENEATH THE SURFACE )This project is one that scott is pulling deep within his soul. The album will be a little darker , yet a melodic blend. So look for this new creation , SOON!!

EDGEWISE concert summer 2000!
The EDGEWISE project was one that scott worked on with JOEL GLASTETTER.This album was recorded at (sillycar studio)Joel mixed and mastered everything.

Check out VEE's first solo album
VEE produced and wrote all material on this project. All digital recording was done at underground studio (scott's basement)
Send an email